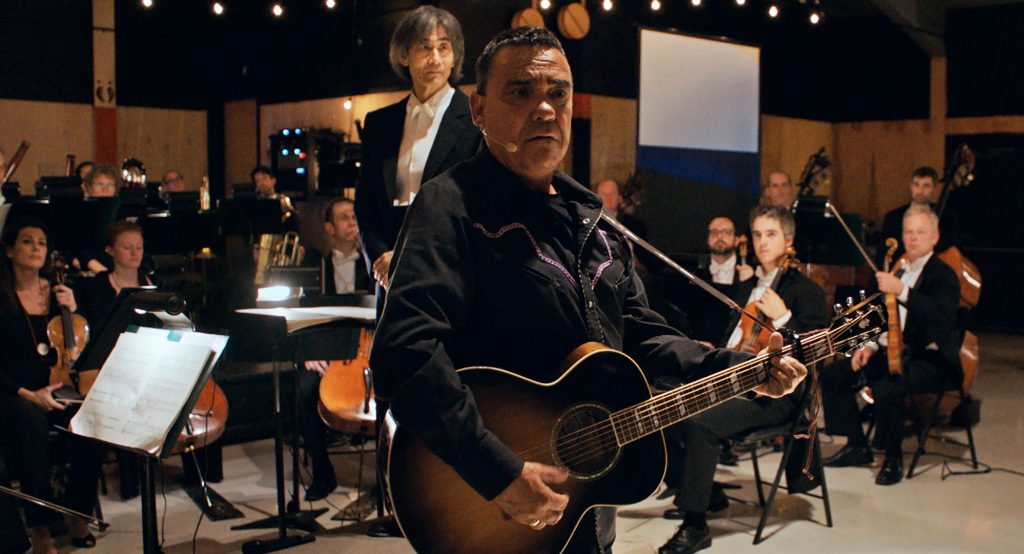 Visions Ouest Productions a lancé les 28e Rendez-vous du cinéma québécois et francophone le 18 février 2022 au SFU Woodward's, 149 West Hastings Street à Vancouver. Une programmation en salle et en ligne est offerte aux cinéphiles jusqu'au 31 mars 2022.
---
Un film de Roger Frappier et Justin Kingsley, Québec, 2019, 123 min, avec Kent Nagano et l'Orchestre symphonique de Montréal.
Synopsis: Un orchestre et son célèbre maestro partent en tournée dans la grande toundra nordique du Québec pour visiter les communautés cries, innues et inuites et partager avec elles un opéra de chambre autochtone : Chaakapesh, le périple du fripon. Écrit par Tomson Highway, composé par Matthew Ricketts et interprété par l'Orchestre symphonique de Montréal sous la direction de Kent Nagano, cet opéra est l'exemple le plus probant et moderne d'une riche collaboration interculturelle.
Kuujjuaq, Salluit, Kuujjuarapik, Oujé-Bougoumou, Mashteuiatsh, Maliotenam : bien plus qu'une simple tournée, CHAAKAPESH, le film, nous place aux premières loges d'un espace de rencontres absolument exceptionnelles, autant pour les artistes que pour les communautés. Des témoignages poignants, des discours essentiels et un maestro Nagano comme on ne l'a jamais vu.
avec / with :
TOMSON HIGHWAY
MATTHEW RICKETTS
FLORENT VOLLANT
AKINISIE SIVUARAPIK
ERNEST WEBB
EVIE MARK
MARC WIESER
ANNA BURDEN
MARIANNE DUGAL
OWEN MCCAUSLAND
GEOFFROY SALVAS
Synopsis: An orchestra and its famed conductor go on tour in Quebec's great northern tundra to visit Cree, Innu and Inuit communities and share an Indigenous chamber opera: Chaakapesh, the Trickster's Quest, written by Tomson
Highway, scored by Matthew Ricketts and performed by the Orchestre symphonique de Montréal under the direction of Kent Nagano. This opera is the most convincing and modern example of a rich intercultural collaboration.
Kuujjuaq, Salluit, Kuujjuarapik, Oujé-Bougoumou, Mashteuiatsh, Maliotenam… Much more than just a tour, CHAAKAPESH the film, puts the audience front row centre in an absolutely unique meeting place for the artists and
the community. Poignant testimonies, important discussions and Maestro Nagano as we've never seen him before.
---
PROMOTION SPÉCIALE! Vous pouvez visionner tous les films sur Eventive gratuitement jusqu'au 21 septembre 2023! / Free access to all films until September 21st
Contact l'Alliance française to receive your promo code and watch all films for free, until September 21st, 2023.
---
Le film Chaakapesh a été présenté sur Eventive du 21 juin au 9 août 2021 et sera de nouveau disponible du 6 au 31 mars 2022..