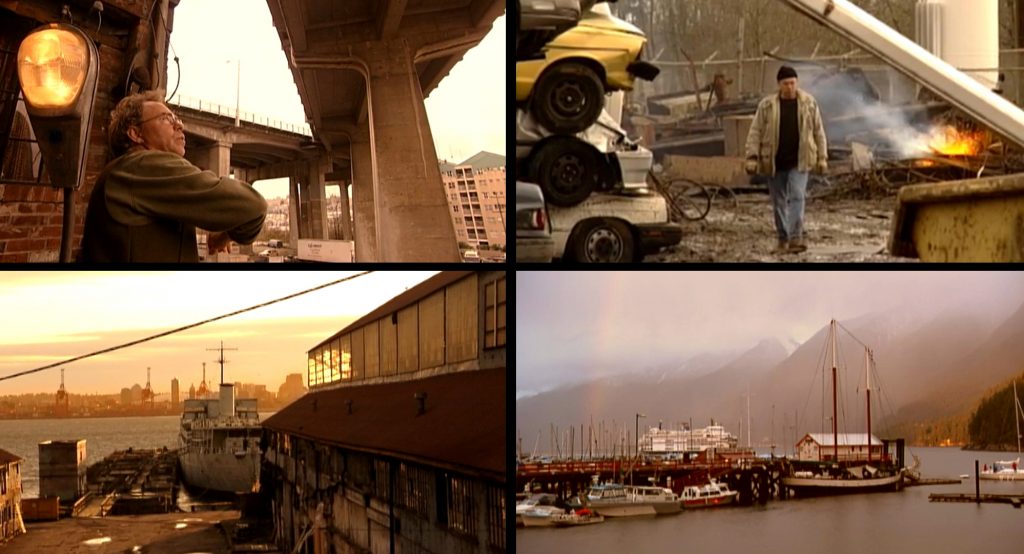 Manon Barbeau, Québec, 2001, 26 min.
Synopsis : Court métrage documentaire sur la récupération en tout genre. Des objets pour en faire autre chose, de la réalité pour en faire de la fiction, de la fiction pour en faire du documentaire. C'est un film sur l'abolition des frontières, sur la poésie et la liberté. Nous vivons dans un monde où les réalités sont multiples. Elles valent pour ce qu'on en fait. En les détournant de leur utilité première, en les recyclant dans la vie ou au cinéma, on recycle le quotidien lui-même. De ce regard neuf sur le réel naît la poésie.
Synopsis : A veritable demolition artist, Alain saves what he can from the wrecking ball, salvaging disused and discarded items and magically infusing them with new life. The scrap yard is his treasure trove. Based only on his fertile imagination, eschewing any kind of preconceived plan, he creates wondrous objects and edifices. An old warehouse becomes his home. A mothballed shipyard serves as a gigantic movie set, further feeding his dreams… until his lease is up and the authorities insist the buildings must come down. But Alain is already off searching for another abandoned structure vast enough to accommodate his soaring vision."
Dates de diffusion en ligne sur Eventive: du 4 au 14 février 2021
Note: ce film a été tourné à Vancouver, North Vancouver et Squamish. Une occasion unique de (re)voir l'ESPACE DUBREUIL, VERSATILE SHIPYARD – LONGSDALE QUAY, BRITTANIA MINE, avant les démolitions. Un document d'archives exceptionnel!