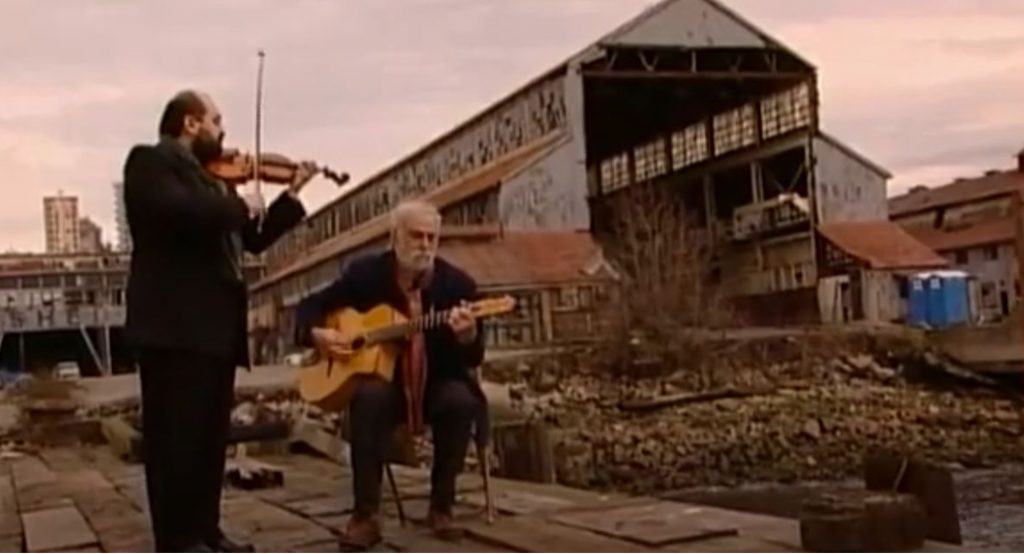 Marc Retailleau, C-B, , min.
Marc Retailleau, C.-B., avec Peter LaCroix, Gina Chiarelli, Jay Brazeau.
Notes: Intriguing Canuck addition to the Dogma 95 canon hews to an austere line, sometimes to the viewer's detriment. Vid-shot tale of a Romanian photographer (quietly effective Peter La Croix) lost in Vancouver makes good use of new technology, and the mostly pro cast is engaging. Still, pic functions best as a calling card for helmer Marc Retailleau.
"Noroc's" sparse script never explains why Petru, about 40, takes almost two years to get his act together in Canada. Now, he's got two weeks to find a job so he can stay. When he snags a night-watchman gig at the World War II-era Versatile Shipyard, his gruff foreman (Jay Brazeau) offers him a place to stay amid an enclave of kooky artists, including a painter (Alan Peterson) who pisses on his work and a sculptor (Gina Chiarelli) who inspires him to show his photographs. Unfortunately, Chiarelli is so brittle and her role so ill-defined, their dynamic is never comprehensible. A subplot with Babz Chula as an environmental activist is poorly sketched. Retailleau gets around soundtrack-music restrictions by having a Romanian band show up at different locations.
Production: A Versatile Pictures (Vancouver) production, with support from Telefilm Canada. Produced by Marc Retailleau. Executive producer, Robert French. Directed by Marc Retailleau.
Dates de diffusion en ligne: Not available