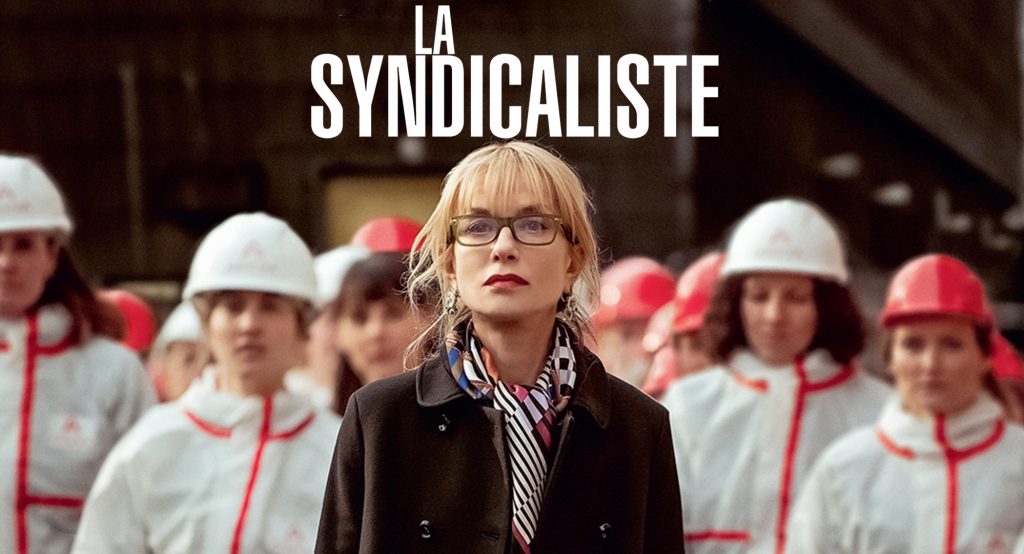 La syndicaliste
Un film de / by Jean-Paul Salomé, France, 2022, 121 min, avec Isabelle Huppert, Grégory Gadebois, Marina Foïs, Alexandra Maria Lara, Yvan Attal, Pierre Deladonchamps.
Note : Écrit par Fadette Drouard et Jean-Paul Salomé, qui réalise également le film, La syndicaliste est basé sur le livre d'enquête de Caroline Michel-Aguirre, cheffe de la section Investigation à L'Obs.
Synopsis : En 2012, Maureen Kearney, déléguée CFDT au sein de la multinationale française Areva, a créé une onde de choc dans l'industrie de l'énergie nucléaire en dénonçant un important secret d'État. La lanceuse d'alerte s'est dès lors butée aux pouvoirs politiques et économiques du pays pour tenter de révéler ces informations sensibles au grand jour, tout en cherchant à préserver plus de 50 000 emplois. Un combat inégal qui a engendré des conséquences particulièrement violentes pour la principale intéressée, dont la vie a été complètement chamboulée.
Synopsis: THE SITTING DUCK is the true story of Maureen Kearney (Isabelle Huppert), the head union representative of a French multinational nuclear powerhouse. She became a whistleblower, denouncing top-secret deals that shook the French nuclear sector. Alone against the world, she fought government ministers and industry leaders, tooth and nail to bring the scandal to light and to defend more than 50,000 jobs…Her life was turned upside down when she was violently assaulted in her own home… The investigation is carried out under pressure: the subject is sensitive. Suddenly, new elements create doubt in the minds of the investigators. At first a victim, Maureen becomes a suspect.
---
Le film LA SYNDICALISTE est disponible en ligne sur Eventive à l'été 2023 / Watch online:
---
PROMOTION SPÉCIALE! Vous pouvez visionner tous les films sur Eventive gratuitement jusqu'au 21 septembre 2023! / Free access to all films until September 21st
Contact l'Alliance française to receive your promo code and watch all films for free, until September 21st, 2023.
---
Notes et critiques:
« Au-delà du rappel d'une affaire plutôt passée sous l'écran radar, Jean-Paul Salomé (Le caméléon, La daronne) dresse le portrait d'une femme dont le combat se déroule dans un contexte éminemment sexiste. Telle une émule d'Erin Brockovich, Maureen Kearney s'est en effet obstinée jusqu'à ce que les autorités liguées contre elle reconnaissent enfin, six ans plus tard, son innocence. (…) (LaPresse)
---
« It's a political thriller that tells the story matter-of-factly, and is perhaps a little lacking in the pace department. But Isabelle Huppert carries it along with a performance every bit as gripping as you'd expect." (thegardian)
---
"Sinueux, à l'instar des développements réels, le récit est fertile en révélations et en rebondissements. Salomé met tout cela en scène avec intelligence, alliant, à l'image, une élégance et un sens du punch en parfaite complémentarité. » (ledevoir)